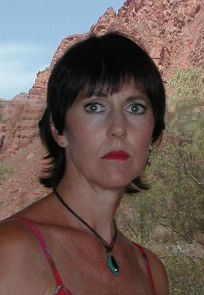 Cheryl Collins

Kayenta, Ivins, Utah 84738 U.S.A.


Born in the early 50's on a ranch in Washington state, award winning artist Cheryl Collins was intuitively drawn to nature, photography, art and poetry. She majored in art and worked with a variety of art mediums before she found her niche in sculpture and fused glass art. .
Besides teaching art classes and participating in St George Museums educational program for schools, Cheryl has received public art commissions, created outdoor sculpture gardens, and been instrumental in community art projects.
Inspired by healing art from past cultures, Cheryl designed and created the fused glass "Healing Towers" at the main entrance (outside) the new IHC Hospital in St. George, Utah. The three towers of steel and fused glass stand 13-16 feet high, representing healing art from ancient civilizations.
"I am grateful for the opportunity to create such powerful and uplifting art, beauty that goes far beyond aesthetics. Glass has a magical quality and these ancient art symbols act as a universal language that can eliminate barriers and erase cultural differences."
Collin's sculptures can also be seen at the Desert Rose Labyrinth & Sculpture Garden in Kayenta, Utah. "Sacred Circles" and "Celebration of Life" sculptures designed by Cheryl stand 15' high at the entrance to the sculpture garden.
Married to landscape painter Gary Collins, the two artists provide creative inspiration for each other. They share similar interests and enjoy traveling to art destinations throughout the world. For the past nine years they have taken art trips to Italy, France, Greece, Turkey, Spain, Wales, England and Mexico gaining an even deeper appreciation and understanding of art.
Her glass art is represented in galleries throughout the country and locally at Juniper Sky Gallery in Kayenta and Green Valley Spa Gallery in St George, Utah.